Malfunctioning garage door? We can help!
Having a malfunctioning garage door can be a real problem for homeowners, which is why our team at Copper Top Garage Doors is available to efficiently repair any issues you may be experiencing. We have served homes in Apollo Beach, Florida since 2004, delivering high-quality service and implementing innovative solutions for all of our customers' garage door repair needs.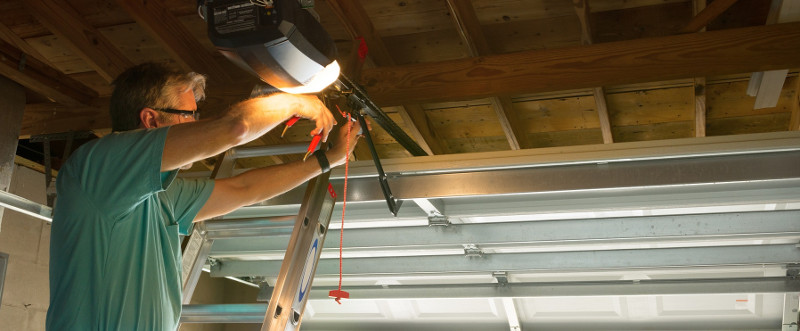 Experiencing any type of problem with your garage door can be an inconvenience at best or threaten the safety and security of your home and family at worst. There are several different indicators that you are in need of garage door repair. Some of the signs that indicate you need professional garage door repair service include:
Strange Noises- If you have noticed that your garage door is squeaking, grinding, or making rattling noises, it could indicate that there are worn components that need to be replaced.
Slow Response- A slow or non-functioning garage door can be indicative of issues with your opener or other mechanical parts of your system.
Jerky Movements– If your garage door makes jerky movements upon opening or closing, or makes uneven movements, it could be a sign that your garage door tracks are misaligned or your rollers are damaged.
Sagging Doors– Sagging garage doors that you notice on visible inspection can be a sign that the springs or cables are compromised, which requires immediate attention to restore safe functionality.
Increased Energy Bills- A garage door that is functioning poorly can draw more energy than needed to try to work properly, increasing your utility bills. This may indicate that your garage door is no longer functioning efficiently and has a problem requiring your system to work harder than necessary.
When you choose our team for garage door repair services, you can rely on our skilled technicians to efficiently identify and address your issues. Because we understand the urgency of problems with your garage door and the impact they can have on the safety, security, and functionality of your home, we offer same-day and emergency garage door repair services. Prompt attention to issues can prevent injury and restore functionality that is vital for the security of your property.
Every member of our team is dedicated to delivering top-notch service and exceeding your expectations in regard to your customer experience. If, for some reason your garage door is beyond repair, we also offer replacement options to best suit your needs. If you suspect you need garage door repair, don't hesitate to give us a call so that we can fix your issues promptly!
---
At Copper Top Garage Doors, we offer garage door repair services in Riverview, Tampa Bay, Sun City Center, Lithia, Brandon, Plant City, Wimauma, Carrollwood, Northdale, Town 'n' Country, Seffner, Fish Hawk, Tampa, Apollo Beach, Lakewood Ranch, and Valrico, Florida.
Similar Services We Offer: