Our garage door technicians can help you with your garage doors.
There is nothing more frustrating than a garage door that doesn't work. It seems like a silly thing to be upset about, but you use your garage door a lot, and it can be pretty inconvenient when it doesn't work like it should or doesn't work at all. You want to be able to open and close your garage door with the touch of a button, not have to manually open and close a heavy and awkward garage door. If you are having problems with your garage door, contact us today at Copper Top Garage Doors, and we will send a garage door technician to your Riverview, Florida home as soon as possible.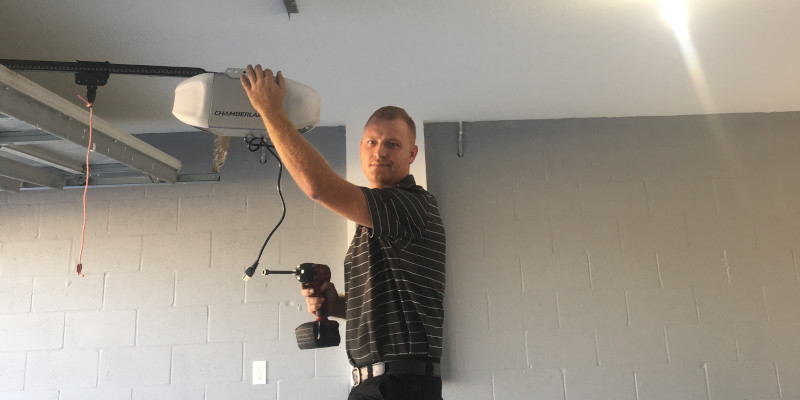 We'll work hard to make sure our garage door technician will arrive on time and be prepared to do any repairs needed to get your garage door working again. We can take care of any garage door problem you have, including:
Garage door repair
Garage door motor repair and replacement
Garage door maintenance
Track and panel repairs or replacement
Installing new garage doors and motors
Repairing or replacing garage door sensors
No matter what your needs are, we can take care of them. We also offer same-day garage door repair for times when a repair needs to be done as soon as possible. We work hard to make sure we do quality work and that you are satisfied with the services we provide you.
Contact us today if you need a garage door technician to come to your home and take care of a problem with your garage door. We are experienced, qualified, and reliable, and we will work hard to make sure your garage door works like it should and is in great condition. We work on all types of garage doors and do quality work. We have all the experience needed to make sure your garage doors are working like new again.
FAQs About How Our Garage Door Technicians Can Help You
Here at Copper Top Garage Doors, we have extensive experience working on all kinds of garage doors, and we can help you keep yours in good condition. Below, we have put together the answers to some of our most frequently asked questions about how our garage door technicians can help you—if you have a question we didn't get to here, feel free to give us a call.
What types of services do your garage door technicians provide?
Our team provides a full range of garage door services, and we can help you with everything from repair and maintenance to replacement and installation. If you have any problems with your garage door or are concerned about it in any way, we encourage you to give us a call to consult our garage door technicians on the matter.
Why do I need garage door technicians?
One question that we get asked a lot is whether it's possible to repair your own garage door rather than hiring a technician to do it for you. While it is technically possible to fix your garage door yourself, we strongly recommend that you do NOT try any DIY solutions, but instead hire trained technicians to take care of the problem for you. Garage door springs are highly dangerous, as they are under enormous tension and can release with great force, potentially causing serious injuries. Our team has the right training, experience, and equipment to work with garage doors safely, so we encourage you to leave this job to us.
---
At Copper Top Garage Doors, our garage door technicians proudly serve Riverview, Tampa Bay, Sun City Center, Lithia, Brandon, Plant City, Wimauma, Carrollwood, Northdale, Town 'n' Country, Seffner, Fish Hawk, Tampa, Apollo Beach, Lakewood Ranch, and Valrico, Florida.