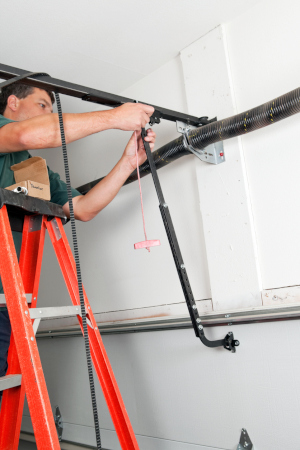 The garage on your home is such a great convenience. It provides a warm, dry place to park your vehicle in during the winter, and a cool place to park in the summer. It prevents you from getting wet in a rainstorm because you can pull right into the garage. It also makes it so you do not have to burn your skin on scorching hot seats during the warm months. Your garage can also be used to store things like tools, lawn care equipment, and even to store items that you do not have room for in your home. The garage door on your garage also allows you easy access to your garage, being able to open and close it with the touch of a button.
When something is wrong with your garage door and it is not working correctly, garage door repair can get everything fixed up so you can go back to the ease and convenience using your garage door gives you. Garage door repair can be done for a number of problems with your garage door. The professionals you choose can repair dents and scuffs on the garage door. If the door is badly damaged, it might not open and close on the tracks properly, or one of the tracks could be bent. Garage door repair can get everything straightened out so that the door opens and closes smoothly. Garage door repair can also help you if a spring breaks, the motor is not working, the sensors are not working correctly, or for a number of other problems.
If you need help with garage door repair, call us at Copper Top Garage Doors. We can have the repairs done in no time and will keep your garage door running smoothly. We do quality work and stand by each job we do.